Hodad's Brewing Draft List
Boss Brew Kölsch    ABV – 5.5% IBU – 20
Local IPA    ABV – 7.0% IBU – 70
Hodaddy Hefe    ABV – 5.0% IBU – 10
Throwback Brown    ABV – 6.0% IBU – 30
Shoot the Pier, Pale Ale    ABV – 6.2% IBU – 44
Beaches & Cream, Cream Ale    ABV – 6.5% IBU – 20
Tablista, Mexican Style-Lager    ABV – 5.0% IBU – 20
Hodad's Rye IPA ABV – 6.8% IBU – 60
DPI Double IPA ABV – 8.5% IBU – 85
1969 Golden Anniversary Ale ABV – 5.8% IBU – 40
Local IPA
Keepin' it West Coast with this one. A big punch of pine, lemon, and grapefruit citrus aroma and flavor are prominently on display thanks to a healthy dosing of "C" hops that shine nicely in this West Coast IPA that finishes dry with a firm bitterness
Boss Brew Kölsch
A light German-style golden pale ale with a dense white head and brilliant clarity. The malt offers a nice grainy sweetness, while the hops lend a delicate floral characteristic to the beer. This is a well-balanced beer with mild bitterness, and a crisp and refreshing finish
Throwback Brown Ale
American Brown Ale features a rich malt character that offers notes of chocolate, caramel, toasty malt sweetness and a light hop citrus. This is a medium bodied ale with a deep brown coloration, with ruby highlights and a dense tan head
Hodaddy Hefeweizen
Traditional unfiltered German-style hefeweizen pours a pale straw coloration with a billowy white head. Prominent banana with light clove notes come through in the aroma and flavor. This is a medium-light bodied beer with a full mouthfeel and refreshing finish.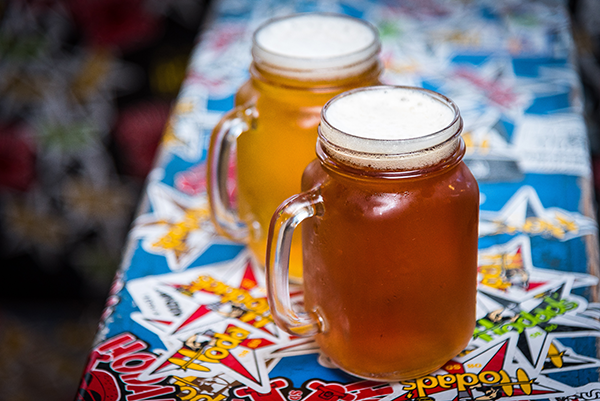 Hesher IPA
This Juicy IPA is double dry hopped with ample amounts of Citra, Cashmere, and Amarillo.
Shoot the Pier Pale Ale
San Diego Style Pale Ale with hints of ripe melon, fresh lemon zest, & tropical fruit
Beaches & Cream
Cream Ale Brewed with the ladies of Hodad's in collaboration with Pink Boots Society for International Women's Day. Crisp, flaked maize, & light fruit.
Tablista
Mexican-Style Lager. Crisp, honey-like sweetness, with flaked maize