Guy Fieri is a chef, restaurateur, author and host of Food Network's top-rated show Diners, Drive-Ins and Dives. Guy stopped by Hodads in 2007 (Season 2 | Seaside Eats) and the huge response to the episode launched huge herds of Burger fans on a pilgrimage west!
The Guido began his love affair with food as a kid. He sold soft pretzels from a three-wheeled bicycle cart he built with his father called "The Awesome Pretzel." Guy has gone on to create a culinary empire as a popular TV host, Chef of seven restaurants and a New York Times Best Selling cookbook author. The chef with the crazy hair began with his first show, Guy's Big Bite on Food Network and the insanely popular Diners, Drive-Ins and Dives was the follow up. He also does stints as a game show host (Minute to Win It, Guys Grocery Games) and a guest judge (Next Food Network Star).
Guy's influence on the popularity of Hodad's in Ocean Beach is undeniable. He stopped by again in 2013 (Season 17/ All San Diego, All the Time) and Boss Man Mike Hardin unveiled the Guido Burger . . .a Fieri & "Triple-D Inspired" menu item. Look for this Pastrami smothered Burger served with ketchup, pickles, swiss cheese, grilled onions and spicy brown mustard!
Sam Zein is a popular local TV Chef. He's a real guy, in a real kitchen, cooking food for real people. He lives in here in San Diego, in the house where he tapes his shows.
Sam quit a biotech job in 2001 to start a travel show, with him as the host. The fact that he had no travel or television experience didn't bother him. His efforts evolved into his fun 'Sam the Cooking Guy' television show. The show became an irreverent mix of humor and live cooking of food that's big in taste, but small in effort. The show has now won 14 Emmy awards.
Zein is a frequent guest of NBC's Today Show. His most memorable visit was when he politely asked Kathie Lee Gifford & Hoda Kotb to stop talking so he could his explain his recipe – that clip (LINK) has now been watched almost 800,0000 times on Youtube. Sam also has 3 cookbooks, 'Just a Bunch of Recipes', 'Kitchen Shortcuts' & 'Just Grill This' and in 2011 he started a live and uncut internet cooking show. Find him at TheCookingGuy.com Sam is a friend of Hodad's and all fans of great food!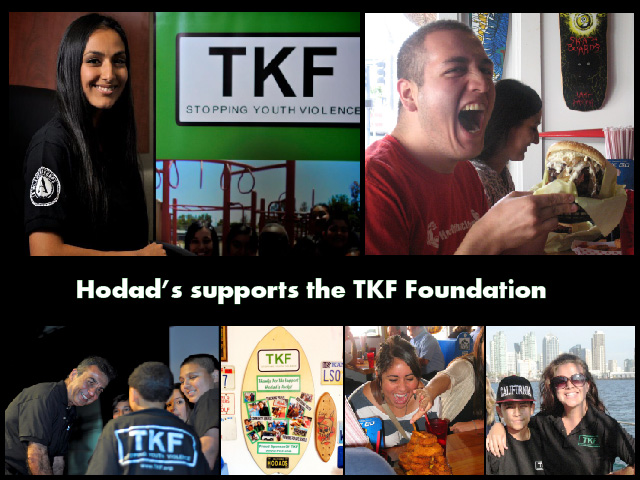 The TKF Organization works to Stop Youth Violence through education, mentorship and community service programs. Hodad's supports their efforts to transform at-risk youth!
The Tariq Khamisa Foundation was established in 1995 after Tariq Khamisa; a 20 year old college student was killed by Tony Hicks, a 14 year old gang member. Tony became the first child in California under the age of 16 to be convicted as an adult. He was sentenced to 25 years to life in prison. Believing there were "victims on both end of the gun", Tariq's father Azim Khamisa reached out in forgiveness to Tony's grandfather, Ples Felix to begin the process of healing; together they established TKF
Connect & Learn More:
http://www.facebook.com/TKFSanDiegofanpage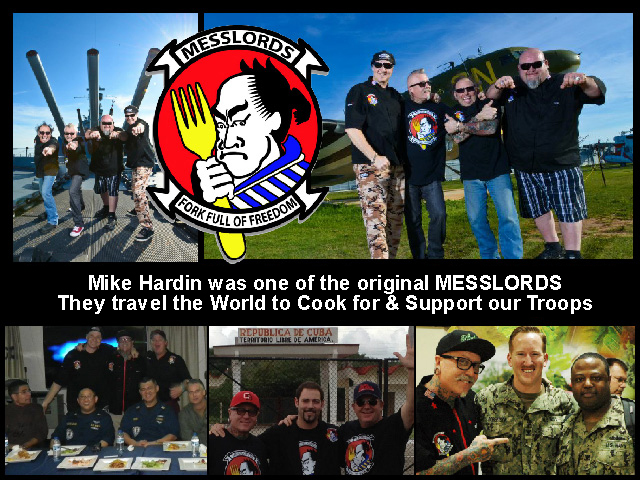 Hodad's Owner Mike Hardin was one of The Messlords!= He traveled with America's Cooks, Pannini Pete, Gorilla Rich & Stretch to cook for our US Troops . . . all over the WORLD!
Each of The Messlords are "Diners, Drive-Ins and Dives" Alum! Chef Rich from Gorilla Barbeque, Pete of Panini Pete's and Stretch from Grinders in Kansas City! The goal is helping U.S. military and their families, both domestically and abroad. The Chefs provide entertainment, education and boost morale through culinary related shows and demonstrations at select military bases. So far they've stopped in Japan, Guam, Egypt, Dubhai & GTMO
Connect & Learn More
http://www.facebook.com/Messlords==