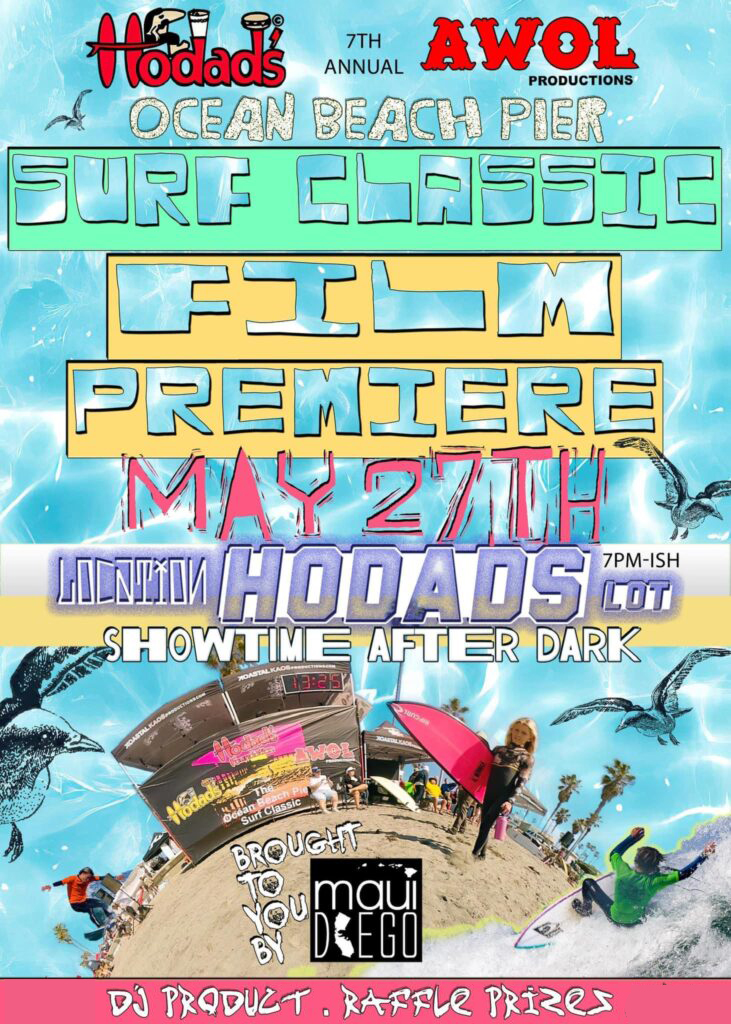 Ocean Beach Pier Surf Classic Video Premiere
Join us for a viewing of MAUI DIEGO's Surf Film made about The Ocean Beach Pier Surf Classic!!! Bring the family and watch all of our Local Rippers! We will have Hodad's Sliders, a raffle and DJ Product mixing the tunes!!
Saturday May 27th in the Hodad's parking lot!
Starts at 7pm – Film Premiere showtime is "after dark"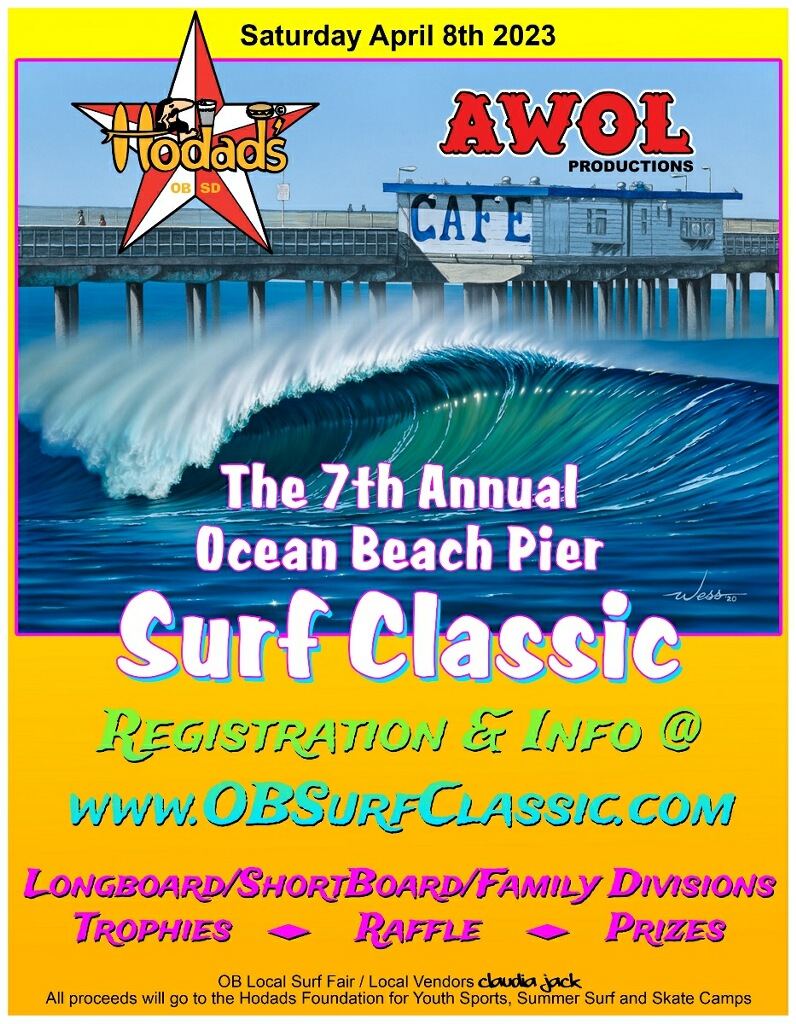 Annual Ocean Beach Pier Surf Classic

Presented by the Hodad's Foundation & AWOL Productions. We're dedicated to honoring the Old School ways and keeping it local! This Surf Contest is for all the local rippers and families in our beloved Ocean Beach Community.
All Proceeds From This Event will go towards the Hodad's Foundation for Sports, Summer Surf & Skate Camps
7th Annual OB Surf Classic: Saturday April 8, 2023
Grom Boys Shortboard
1. Lucio Locatelli
2. Vaun Harrison
3. Mason Puckett
Walker Hawes
Max Bell
Hudson McKee
Junior Boys Shortboard
1. Graham Allen
2. Lucas Shipley
3. Ivan Wolf
Kayden Morgan
Miles Mimno
Jacob Devore
Mens Longboard
1. Thor Willink
2. Louis White
3. Blaine Louis
Pearce Mendoza
Cody Stone
Nick Isabella
Mens Shortboard
1. Shane McNulty
2. Graham Allen
3. Layne Harrison
Vaun Harrison
Brandon Roberts
Leonidas Abatti
Mens Masters Shortboard
1. Layne Harrison
2. Chris Loomis
3. Leonidas Abatti
Todd McWethy
Narayan Lewis
Mens Masters Longboard
1. Gary Novak
2. Justin Holly
3. Fred Sannmann
Greg Crowley
Chris Ducharme
Guga Moreira
Grom Girls Shortboard
1. Zoe Panattiere
2. Taylor Perry
3. Geneva Sannmann
Bonnie Lacobazzi
Grace Harrison
Sidney Vierling
Junior Girls Shortboard
1. Zoe Panattiere
2. Lena Santoro
3. Corrine Santoro
Sienna Shipley
Kylie Davis
Womens Shortboard
1. Brandy Jester
2. Sofia Cale
3. Lena Santoro
Corrine Santoro
Kylie Davis
Virginia Fajardo
Womens Longboard
1. Sophia Cale
2. Virginia Fajardo
3. Lena Santoro
Lia Betonzas
TIE with Savannah Campos n Solona Kellner
Womens Masters Longboard
1. Kayla McCarthy
2. Brandy Jester
3. Phoenix Coverley
Megan Crowley
Family Feud
1. Layne n Vaun Harrison
2. Graham n Scott Allen
3. Emiliano n Memo Mendez
4. Fred n Geneva Sannmann
2023 PHOTOS
more photos coming soon
Huge thanks to our Sponsors, Local Friends & Neighbors :