OPEN 24 HOURS – JUST NOT IN A ROW!
Hodad's has 3 Locations! Ocean Beach & Downtown San Diego.
Open Daily at 11 am. Only Closed on Easter, Thanksgiving & Christmas Day
We also have a spot over in Petco Park! Stop by during Padres Home Games
———
Like us on Facebook! Follow us on Twitter & Instagram!

***NEWS FLASH***
LIMITED TIME: COUPON FOR $5.50 BURGER BASKET AT DOWNTOWN LOCATION
———
Hodad's has been recognized as one of the top 5 burger joints in the country by CNN!
(Hodad's being the only West Coast restaurant to get recognized.)
Read More about our "44 Year OVERNIGHT SUCCESS STORY"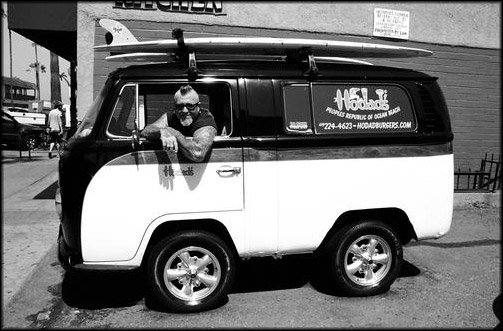 In 1969, Byron and Virginia Hardin began serving the World's Best Burgers.
Hodad's first location was on the beach at the end of Santa Monica Ave. in Ocean Beach.
In 1991, after several moves, Hodad's opened at it's present location in the heart of Ocean Beach's Newport Ave.  In 2011 we opened our second location at 10th & Broadway in beautiful downtown San Diegoand in 2012 we opened a seasonal spot inside Petco Park for all of the baseball Fans.
Hodad's is now owned by second generation Burgermeister, Mike "Bossman" Hardin
He's a local guy and a surfer. He does his best to make life better for America's Military with a gang of other great Chefs with their group called the MESSLORDS!
Read more about our friends and supporters or check out our Press Page